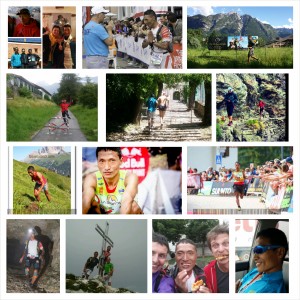 DAI DAI, EASY EASY, UPENDRA!
 UPENDRA SUNUWAR Out of his Nepalese country he would be called "elite" trail runner .  He won every trail race you can name there: from the multiple-day events organized by his mentor Richard Bull of www.trailrunningnepal.org like Manaslu Trail Race and the Mustang Trail Race, to the Annapurna Trail Race 100, the iconic Everest Trail Race, the Everest Ultra 65k, the Kathmandu Trail Race and the Himal Race 745k….yes, you read it right: 745km in 21 stages along the Great Himalaya Trail, completely self-supported .
Upendra had never left Nepal and probably could have not even dreamt of doing it until the day before his flight to Europe, when  Richard got his visa and raised sufficient money for his trip. After I met him at the Mustang Trail Race, an saw him "as cool as a cucumber" winning it with the patience and alertness of a snow leopard, I offered him to stay with me in the Dolomites and plan to experience some races here. It's been a great experience for him, but greater for me in observing his semplicity in action (no maps, no watch, inadequate shoes) and his reflective mood that would bring him a lesson at every experience he got here, albeit in very basic English words.  He lived so many more experiences than planned, thanks to so many friends who took him around in all different parts of the Alps.
Therefore, with Upendra, we bow in sign of "Namasté" to all and each of the following people here:
- Thomas Moser from Munich who accompanied him and assisted him at TNF Lavaredo Ultra Trail, the same day, after a long flight and a long drive: no wonder that after a good start in the first group, he was jet legged and was hero enough to crawl must of its 120kms to the finish in 19 hours. (only on his final day, after the Transdhavet was cancelled he explained that in Nepal races are never cancelled after the start) .
- Michele Festini, the organizer of the innovative Fastest Known Times loop on the Alta Via in the Cadore area of the Dolomites, the DOLOMITITRAIL D+ 5.6 (www.dolomititrail.it ), who took Upendra around those beautiful and less known trails as reco for a future record. This is one of the frst reason why Upendra has to come back.
- Stefano Marta of Mandala Trail (www.mandalatrail.it) who gave a unique opportunity to run on "the traces of Tor des Geants" in the Western Alps in 3 perfect sunny days
- Nicole and Fabio Cavallari of the Adventure Outdoor Fest (www.adventureoutdoorfest.org) and Davide Orlandi of Soul Running Mag (www.soulrunning.it ) who hosted him in San Candido, gave us the opportunity to run on trails there and gave me the chance to introduce Upendra to the public during the 1st presentation of our Mustang Trail Race Adventure .
- Paola and Diego of the Dolomites Skyrace in Canazei, (www.dolomitesskyrace.it )but also all the photographers and numerous supporters who cheered him up on the course of both the Vertical Race and the Skyrace, encouraging him to his surprise with "DAI DAI UPENDRA" (Go, Go Upendra), helping him to finish strong in the 33rd position, out of 600 partecipants . Lesson learnt: poles can be very useful, although they cost too much.
- Enrico Pollini and all the Ultraberici staff of his final race here, the Transdhavet 80k (www.transdhavet.it ), who treated him friendly but also with the respect of the "elite" runner he showed he is, fighting all night for the podium in an exceptional stormy weather which ended up with the stop of the race. Lesson learned: even with a foot problem and very bad weather, if you speed train and  keep fueled and hydrated hourly during the race, you can do your best race. Ah, one important yoga lesson he gave me: when you want to rest even during the race: strike Malasana, the Garland Pose, ie. simply squat down.
- Mario De March, my guide and local friend, who took us on top of totally unknown, secluded peaks in Cadore and could test Upendra's amazing sense of self-orientation. Lesson learned, by us: with no maps, just with orientation, you can avoid getting lost. One lesson for me, a mantra now: downhill "just think it's EASY EASY".
"DAI DAI,  EASY EASY " come back soon Upendra!
More on Upendra in Europe: in Italian http://distanceplus.com/news/item/lut-2014chi-e-upendra.html