#FITNESSFORALL 4 : SINGLE LEG SQUAT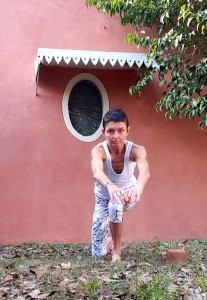 Dopo lo Squat , le Trazioni e il Turkish Get Up (vedi 3 video su You Tube)  , possiamo spingerci a testare e esplorare la forza un pò più in profondità: su una gamba alla volta.
Toccare la rotula a terra mentre si piega l'altra gamba indica un buon livello di resistenza dell'arto inferiore in relazione al nostro peso.
Prova senza preparazione e poi prova con questi #movimentispinali  (estensione, flessione, lato, torsione) e Vinyasa o sequenza di flusso su 1 gamba, come da #yogasynergy e fammi sapere le tue sensazioni (e i risultati).
Scommetto che non avrai bisogno di alcuna regressione o assistenza di supporto (come il mattone yoga nel video) , perché il riscaldamento della mobilità ti avrà messo in moto dalla tua fonte della forza che tutti abbiamo, oltre genere ed età, il CORE , una zona tanto profonda  quanto magica ed essenziale per il movimento , al punto che la medicina occidentale ha trovato essere un vero e proprio sistema nervoso (enterico) o "cervello dell' azione". In Cina lo coltivano da millenni (Dan Dien) e in India corrisponde all' "Uovo dalle 72000 nadi o canali", il Kanda; in Giappone corrisponde allo Hara. Il concetto comune è : l'azione efficace e salutare nasce dal centro, gli arti seguono.
Gratitudine al Coach @Gabriele_Pampanelli per l'ispirazione e la sua dedizione alla "forza gentile", che non è quella esterna della massa muscolare, bensì quella più discreta "femminile" , anche se non meno potente.
ENGLISH:
#FITNESSFRALL : SINGLE LEG STRENGTH TEST & FLOW
Touching the patella on the ground while bending the other leg indicates a good level of strength of the lower limb in relation to our weight.
Try with no prep and then try with this #spinalwaves (extension, flexion, side, twist) and 1 leg Vinyasa or flow sequence from #yogasynergy and let me know your feelings (and results) .
I bet you won't need any regression or prop assistance, because mobility warmup set you in motion from your strenght source , the core. Hips and legs follow.
Gratitude to Coach @Gabriele_Pampanelli for the inspiration and his dedication to 'gentle strength'.
Related Posts